Large Scale Autoclave (also called composite autoclave, industrial autoclave for composite material or composite autoclave machine) is one of the our hot sale industrial autoclave products. Large scale autoclave is a special pressure vessel that can withstand and regulate the temperature and pressure range according to the specified production process. The large scale autoclave is widely used in the production of advanced aerospace composite parts.
Our America customer sent an inquiry of large scale autoclave, it is used for laboratory. Our pressure vessel engineer designed technical scheme according to customer requirements. After many times of communication, he is very interested in large scale autoclave and he will visit our factory in December 2018.
 Specifications of Large Scale Autoclave
Using Diameter: 2000mm

Using Length: 4500mm

Thickness: 14mm

Working Temperature: 250

℃

Working Pressure: 1.03 mPa

Material: SA 516 GR 70

Medium: Compressed air

Design Code: ASME Standard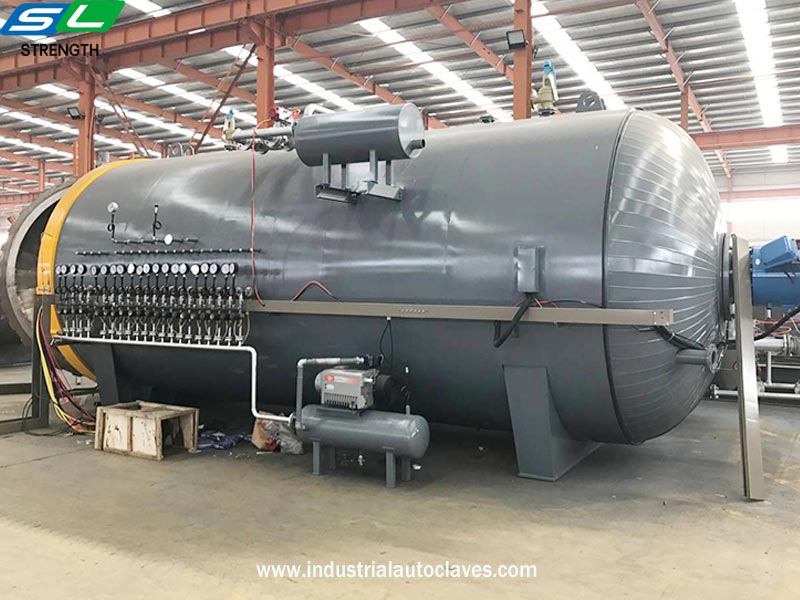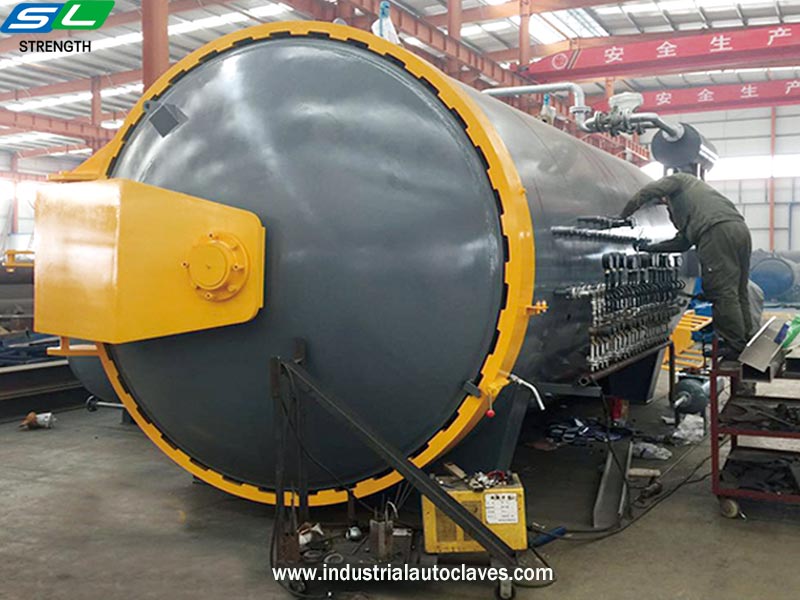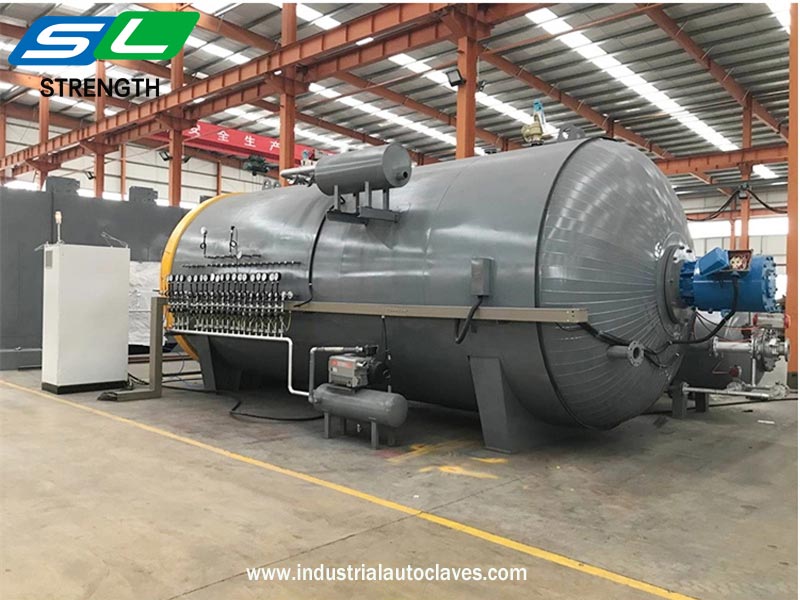 Features of Large Scale Autoclave
Unique heating system
A heater consisting of a multi-layer heating tube with fins is arranged at the inlet end of the centrifugal fan to ensure sufficient heat exchange between the circulating gas and the heater, which has a good heat exchange effect and high utilization of heat energy.
Atomized water precooling
When pre-cooling, the compressed air atomizes the cooling water. Under the action of compressed gas, the atomized water can enter the pipes of the large scale autoclave cooler uniformly like a gas, so that the cooling rate of each part of the cooler is uniform, so that the thermal shock of the cooler drainage is small, and the thermal deformation is small, and High-precision control of the cooling rate of the large scale autoclave.
Specialized cooling system
The sealing ring material used by the STRENGTH Equipments can withstand the high temperature of 200 °C. In order to ensure that the sealing ring is not damaged by heat, the autoclave with working temperature above 200 °C is equipped with a sealing ring cooling system, so that the sealing ring has a longer temperature at high temperature.
About STRENGTH Equipments
Taian STRENGTH Equipments Co., Ltd is the professional pressure vessel designer, manufacturer and exporter dedicated in supplying finest quality industrial autoclave, storage tank and dish head products and solutions to worldwide customer over 20 years. We have over 80 talented research and development experts, 2 million square meters manufacturing factory and more than 50 sets large-scale manufacturing machines.  Our annual industrial autoclave and storage tank output can reach over 300 sets, dished head output can reach over 3000 sets.
STRENGTH Equipments is not only manufacturing high quality industrial autoclaves, storage tanks and dished ends but also providing custom product design, fabrication and after-sale service.  ODM, OEM are also available. If you have any questions or inquiries,  please fill and submit the following form, we will reply as soon as possible.