Autoclave For AAC Plant (also called AAC autoclave or autoclave for AAC blocks) is a large, heavy-duty industrial autoclave. AAC autoclave widely used in autoclave curing of concrete materials such as aerated concrete block concrete pipe pile, lime sand brick, coal ash brick, micro porous calcium silicate board, heat preservation asbestos board and high strength gypsum.
Specifications of Autoclave For AAC Plant
Diameter: 2000 mm
Length: 21000 mm
Thickness: 16 mm
Design Pressure: 1.5 mpa
Design Temperature: 200℃
Door Operating Way: automatic opening
Medium: saturated steam
Material: SA 516 Gr 70
Design Standard: ASME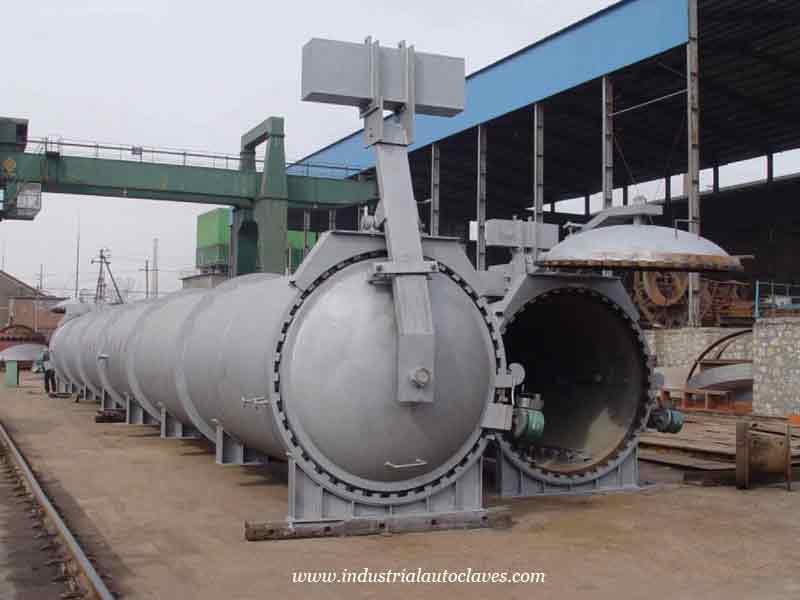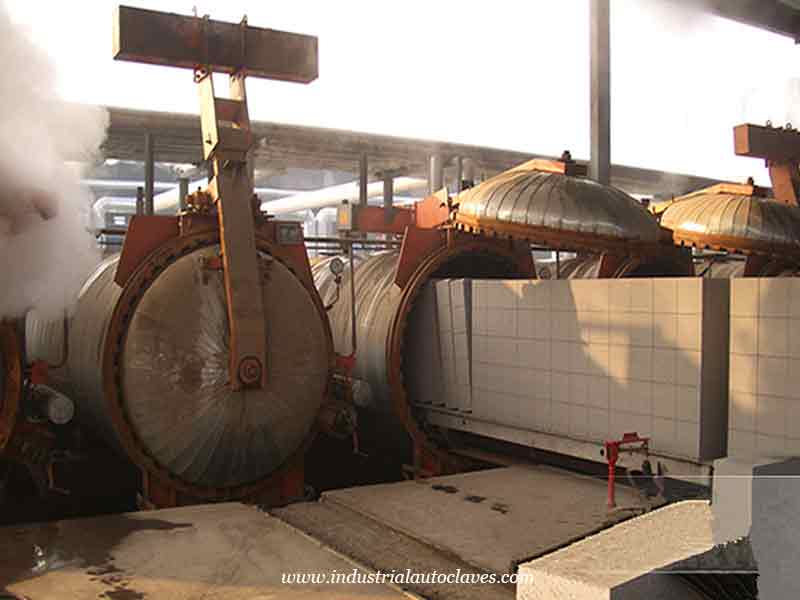 Scope of supply
①shell ②safety interlock device ③track ④electric control cabinet(including ammeter, voltmeter, inspection instrument)⑤pipeline ⑥sprinkler
Features of Autoclave For AAC Plant
①The door of autoclave for aac plant is a quick opening door structure, which is opened and closed by a manual speed reducer, and can also be opened and closed according to the user's electric, pneumatic and hydraulic actuation.
②Equipped with a complete safety interlock protection device to minimize the risk of misuse, ensuring the safe operation of the aerated concrete autoclave and the safe production of operators.
③There are two types of opening door: side opening door and swing-up door. The side opening type adopts the rotating arm type door opening structure, the rotation is flexible, the low position operation is simple and convenient to open; the swing-up type adopts the lever type door opening mechanism, the lower end of the lever is connected with the AAC autoclave door, and the upper end is equipped with a weight device, the type is light and the AAC autoclave side is opened, take up little space.
The autoclave for AAC plant is the core equipment for the aerated brick production line. It is one of the main processes in the production of aerated bricks (vapor bricks) for the high temperature and high pressure maintenance of the bricks coming out of the brick making machine.
In the production process of the aerated bricks, the high-temperature autoclave provided by the autoclave must be ensured to make the quality of the bricks more stable.
Therefore, the autoclave for AAC plant is also an important irreplaceable steaming equipment in the production process of the whole aerated brick.
About STRENGTH Equipments
Taian STRENGTH Equipments Co., Ltd is the professional pressure vessel designer, manufacturer and exporter dedicated in supplying finest quality industrial autoclave, storage tank and dish head products and solutions to worldwide customer over 20 years. We have over 80 talented research and development experts, 2 million square meters manufacturing factory and more than 50 sets large-scale manufacturing machines.  Our annual industrial autoclave and storage tank output can reach over 300 sets, dished head output can reach over 3000 sets.
STRENGTH Equipments is not only manufacturing high quality industrial autoclaves, storage tanks and dished ends but also providing custom product design, fabrication and after-sale service.  ODM, OEM are also available. If you have any questions or inquiries,  please fill and submit the following form, we will reply as soon as possible.