Tank Dome Ends, also called dished head, tank heads and dished ends, are the important part of pressure vessel like industrial autoclave, storage tank, boiler, chemical industry. Our tank dome ends can be designed and manufactured with carbon steel, stainless steel or other alloy steel materials.  Our Pakistan customer is the professional storage tank manufacturer, he showed interested in tank dome ends with the followed specifications.
Specifications of Tank Dome Ends
Inner Diameter: 2700mm
Thickness after forming: 18mm
Material: SA 516 Gr70
Quantity: 32pcs
Shape: elliptical
Design code: ASME Standard
Surface treatment: sand blasting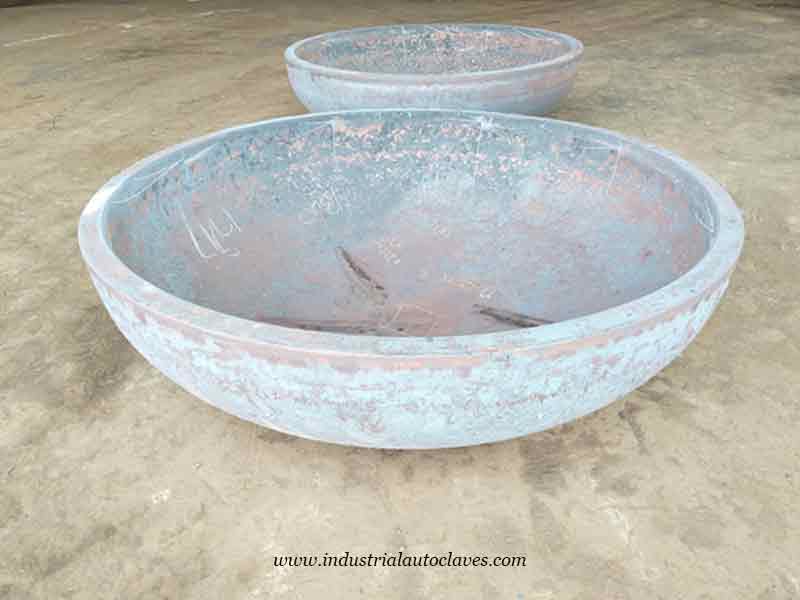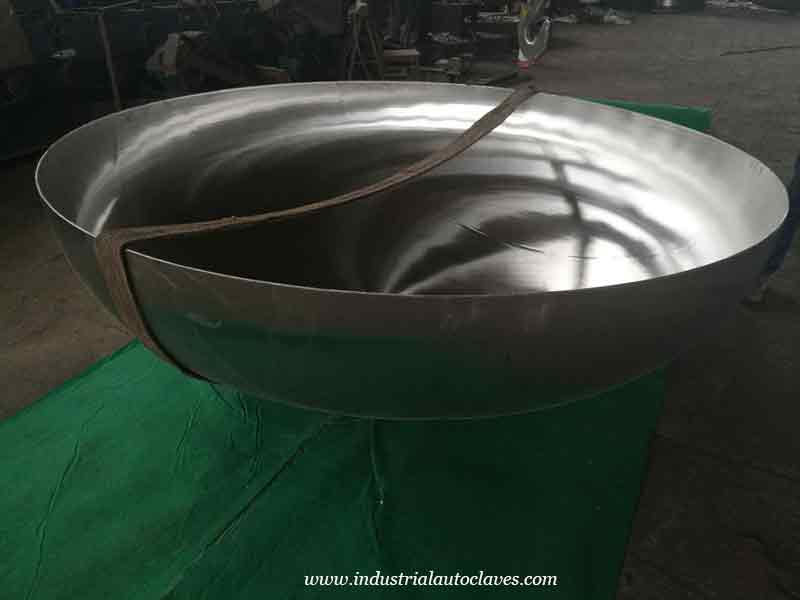 Tank Dome Ends Processing
The tank dome ends manufacturing process can be generally divided into integral forming and split forming. The integral forming is mainly by stamping and spinning according to the processing method. The split forming generally refers to split pressing and tailor-welded forming.
1、Integral Forming
The most common preparation process for the integral forming process of large pressure vessel thick-walled heads, including stamping and spinning. In general, stamping is generally used for the standard dished heads; for medium-sized、non-standard or large diameter heads, it is preferred to use spinning.
2、Split Forming
In the manufacture of large thick-walled pressure vessel heads, the blanks are often formed by splitting and tailor-welded. The head consists of a large spherical top and a plurality of curved petals. The ball is missing and curved. The flap is first formed by cold forming, then pre-formed, and finally welded on the welded body.
Our company mainly produces pressure vessels like industrial Autoclave, storage tank, gas tank, fuel tank, double wall tank, vulcanizing tank, spherical tank, distillation tower, reaction tower. Dished heads like all kinds of tank heads, nuclear power dish head, all kinds of cone and shell. Forgings like nuclear power forging, marine forging, thermal power forging, wind power forging, aerospace forging, petrochemical forging and various types of machinery forgings. We had provided high competitive and finest quality products to over 20 countries. Our customers are from Japan, South Korea, Malaysia, Indonesia, Pakistan, South Africa, Sudan, Thailand, Ukraine and Vietnam, etc.
About STRENGTH Equipments
Tai an STRENGTH Equipments Co., Ltd is the professional pressure vessel designer, manufacturer and exporter dedicated in supplying finest quality industrial autoclave, storage tank and dish head products and solutions to worldwide customer over 20 years. We have over 80 talented research and development experts, 2 million square meters manufacturing factory and more than 50 sets large-scale manufacturing machines.  Our annual industrial autoclave and storage tank output can reach over 300 sets, dished head output can reach over 3000 sets.
STRENGTH Equipments is not only manufacturing high quality industrial autoclaves, storage tanks and dished ends but also providing custom product design, fabrication and after-sale service.  ODM, OEM are also available. If you have any questions or inquiries,  please fill and submit the following form, we will reply as soon as possible.